Jack Knife, The Crashing of a Policeman - Presentations
By Paul 'Little Jack' Horner. NSW Police & Post Traumatic Stress Disorder. Jack Knife is the story of Paul Horner's journey as a fully operational Police Officer working at some for the busiest and hardest police stations within the State of New South Wales (NSW). Jack Knife is about Trust. It is about Loyalty. It is about Mateship. It is about Courage and Determination. It is about trusting others with your life and others trusting you with theirs. Jack Knife is an all inspiring book about, not only the NSW Police Force, but a Policeman with two arms, two legs and a heartbeat. In other words a regular human being just doing his best to serve his State the only way he knew how. Published by Zeus Publications. ISBN: 978-1-921919-08-4
I have prepared a Presentation relating to 'Psycho Education & Resilience Building' in addition to 'Harm Minimisation & Stress Management'.

My presentation discusses, explains, and clinically defines 'PTSD' and 'A Traumatic Event'. In addition I throw it in to context by discussing my own signs & symptoms of PTSD and relate it to real life experiences. Although derived from a police setting it is designed to be engaging, informative and inspiring to any member of the community.

The presentation is a power point presentation taking approx 40-45 minutes to deliver with question time thereafter. An opportunity then exists to purchase a signed copy of my book for those that choose to do so. Please allow approximately 2 hours for the whole process.

I present to Operational Police Officers, Corporate Business, Community Groups, and at Local Libraries. To this point I have delivered to boutique size groups (1-80) however am not limited in respect of service delivery and encourage requests from large groups of people (100-300) in addition to the boutique size groups.

Photo Courtesy: Karl Hofman
Feedback from my Presentations ...
In demonstrating the positive impact my presentation has, I recently delivered my presentation at the Robina Library (Gold Coast) in which approximately 60 people attended offering me a standing ovation at it's completion. My presentation is informative, inspirational and captures the attention of all that attend.
Please see Examples of 'Feedback' I have obtained as a result of my presentation below:

"Very professional, well presented and authentic."


"I really liked the segment of Fight or Flight with the response being altered by training etc."


"His presentation was very good and he covered all the topics I was expecting on a PTSD presentation (definition, cause, symptoms/signs, what to do to try and avoid getting into a state of chronic PTSD and managing the symptoms)."


"I really liked the way he paints a chronological picture of all events leading to his PTSD, from training and expectations at the NSW Police Academy, to the build up through the different stations and Specialist Units."


"The presentation contained some great ideas about learning to manage stress productively and explained PTSD so it was easy to understand. I found it courageous and inspirational."
The feedback I have received from my presentations and indeed my book has been all positive and inspires me to continue with my positive message and indeed inspire you! My presentation shall arm my audience with a set of tools and educate them in respect of the early warning signs and symptoms of PTSD as a result of my experiences. It will also inspire people that are struggling, to look after themselves and move forward / manage their PTSD so that they can have a positive and productive life. For those that are not suffering from PTSD my presentation is an ALL INSPIRING one which people take something positive from for their own lives. I believe my presentation can help your cause and the people you are trying to help.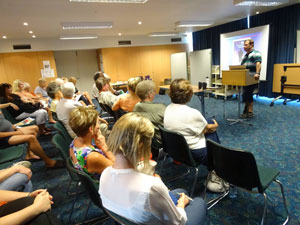 Please email Paul to discuss Bookings Enquiries
crumbshorner@hotmail.com
"He who tries and fails may be disappointed,
but he who does not even try is ultimately doomed!"