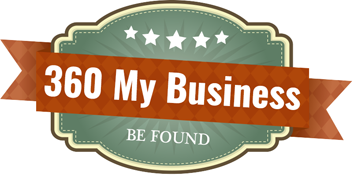 Get your Small Business
to show up Virtually across Google.
You might be surprised at the number of people who are searching Google for exactly what you have to offer. Those customers you are looking for, are looking for you - using their mobile, tablet or PC. Let's make sure you can show your business with a 360° virtual tour. It's an easy way to be seen across Google and will show-up to people who are actively searching for exactly what you have to offer. How? Simply get your Business 360° tour included on your Google+ page and talk about new products or services.
This is how Your Business will look
www.360mybusiness.com.au/example
We'll set up your virtual property on Google for you OR
call us at 1300 876 448 and let us help you.

The Details. How it Works.
When we do the photoshoot of your business premises your 360° Virtual Tour will appear on Google Maps on their Mobile, Tablet or PC, making them comfortable, and prompting them to come to you as a result. Using the attractive and interactive nature of the 360° Virtual Street View technology encourages people to see inside. You're welcoming prospective customers to feel the ambience and décor of the inside space to describe what's special about your business.
Your Current Customers
Your current customers will likely search for your business by name (ie. Sophie's flower shop) and, consequently, your 360° Virtual Tour listing shows up in their search results.
Prospective New Customers
Prospective new customers tend to search for the products or services you offer by topic and location (ie. wedding flowers Sydney), in which case it's likely your business won't show up. Here is a solution - quite often they are seeking information you could easily provide on a Google+ page. When you show up with your 360° Virtual Tour combined with your expertise, or this week's special offer, or the latest news or information about a sought-after product - it attracts them to visit you. Your 360° Virtual Tour on Google Maps appears on their results page - whether it be in Google maps, or Google Search.


What's the Cost
for an Agreed One-time Payment?
Give it a go. Let's get started. Set up your 360° virtual tour before 31 July, get it up and running and we'll give you $150 in bonus credit to use for optimisation your Google+ page. Just contact us using our details shown above. Go to www.360mybusiness.com.au to learn more OR if you prefer, we'll come to see you, There is no obligation or a commitment. Free. Give us a call on 1300 876 448. *Visit our website for offer terms and conditions.